Jan 26, 2023
Prestige Services, Inc., Named Best B2B Collection Agency for 2023
Omaha, NE: Prestige Services, Inc. (PSI) has been awarded the best B2B Collection Agencies of 2023. This is the fourth consecutive year that Prestige Services, Inc. has been awarded by Business.com.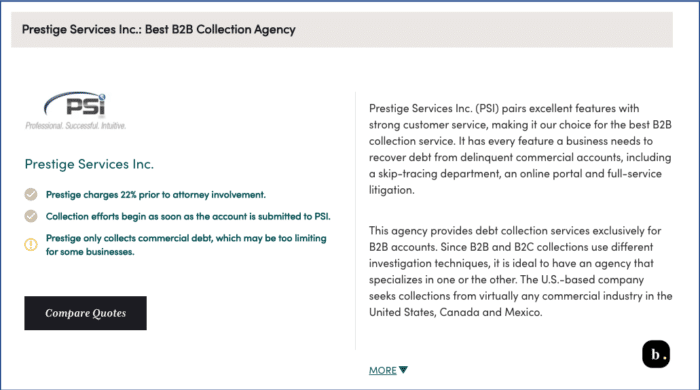 To be awarded this outstanding achievement, Business.com reviewed 30 of the top commercial collection agencies in the United States and analyzed each agency's collection rates, minimum debt variables, and more. In addition to the excellent customer services provided, PSI also offers contingency rates 5–10 percent lower than most competitors and quick collection services often concluded within the first 45 days.
As of 2023, Prestige Services, Inc. has consistently scored A+ Better Business Bureau ratings for its commercial debt collection services. Their website, psicollect.com, offers customers with a comprehensive online portal that includes unlimited free quote access and the ability to quickly add new collection accounts with ease.
For those interested in learning about commercial debt collection laws in their state, Prestige Services, Inc. provides a list via their home page or from our Commercial Debt Collection Laws by State page.
About Prestige Services, Inc.
Prestige Services, Inc., (psicollect.com) is a full-service agency offers an exclusive online portal service for its large and small commercial collection accounts. This Online Placement Portal provides unlimited access to free quotes and live status updates about agency-to-debtor interactions. With a comprehensive list of services, PSI offers pre-collection services, free final-notice forms, skip tracing, and post-judgment collections.
For questions, please contact CEO Joy Baird  at (800) 523-2797, by email at mail@psicollect.com, or by contact form.
To read the full Business.com review of Prestige Services, Inc., and the other reasons for their 2023 award, visit: https://www.business.com/categories/best-collections-agency-services/