Nov 29, 2017
How to Recognize a Debt Collector Scam
Calls from collection agencies can sometimes be intimidating and confusing, whether it's from a scammer or not. The Federal Fair Debt Collection Practices Act (FDCPA) prohibits debt collectors from using unfair, deceptive, or abusive methods to collect debt. But there's still the notion that you owe money to someone and they're trying to get you to pay up, which can be tough to come to terms with. This is especially bothersome if the "debt collector" calling you is a scammer trying to get you to give up money for a debt you don't have. This article will provide several tips to recognize if someone is a fake debt collector trying to scam you.
Ask Questions
Regardless if you do or don't have debt with a company, it's always important to ask a variety of questions to learn the most the person calling you. If they're a real debt collector, they are required to provide you with the name of the creditor, the amount of money owed, and information on how you can dispute the debt. When debt collectors contact debtors, they're also required by FDCPA to send you a written notice of the debt within five days of first phone call (Consumer.FTC.gov).
During the duration of the call with the debt collector, you should focus on not sharing any personal information including: your social security number, your credit card number or bank account info, and your birth date. If the caller says they need to verify your information, you can wait and use the phone number they include on the written notice. If it's a spam caller, they might refuse your questions or try to trick you into sharing your personal information (Bankrate.com).
Research the Info Provided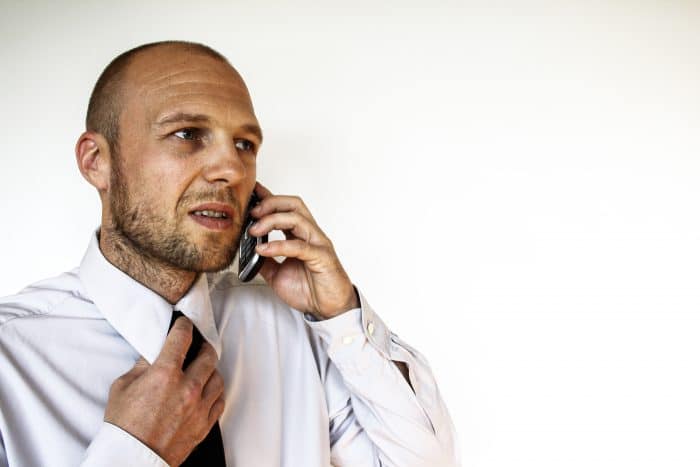 Most smart phones allow for you to search in a mobile browser during phone calls, so be sure to utilize that opportunity and research the information that the "debt collector" provides to you. There are several helpful websites that provide reviews and reports of scam attempts from people all over the world (e.g. ripoffreport.com). It's very likely that the scammer on the phone with you has tried to scam others and even more likely that a victim has reported them. One quick search could provide all the necessary info, let it be of their "agency" name or even the phone number used to call you.
If you find that the person calling you is indeed a scammer, find out as much information from them and report it to your state's attorney general's office (Who's My AG?). Common information to include in a report to your attorney general include the scammer's:
Name
Address
Phone number
Website
Email address
Check Your Credit Report
Whether someone's calling you about debt or not, it's important to regularly check your credit report. Some common information provided in credit reports includes your current credit accounts, your credit limits or loan amounts, a list of everyone who's accessed your credit report in the last two years, and information on any unsettle debts or overdue debt from collection agencies (MyFICO.com).
Read Through Any Verification Details They Send
This is the age of smart debt collector scammers and in this age they might decide to send you a letter trying to verify the legality of what they originally called you about. If you do receive letters from them, don't immediately trust them and provide your details back. Read through the information very carefully to see if there are any small or large errors, such as the spelling of your name, middle name, or their billing address (Bankrate.com). If anything seems out of the ordinary or incorrect, make a copy of it and include the original if/when you send it to your state's attorney general as a spam report.
Sources
Consumer.FTC.gov: https://www.consumer.ftc.gov/articles/0149-debt-collection
Bankrate.com: http://www.bankrate.com/finance/debt/8-tips-to-know-if-debt-collector-is-legit.aspx
Find Your State's Attorney General: http://www.bankrate.com/finance/debt/8-tips-to-know-if-debt-collector-is-legit.aspx
MyFICO.com: https://www.myfico.com/crediteducation/in-your-credit-report.aspx