Dec 13, 2017
How to Avoid Debt During the Holidays
Did you know that December is often the most expensive month of the year? In Northern U.S. states, heating and electricity bills increase for families in order to pay for the dropping outdoor temperatures. With cold weather and shortened days comes higher transportation costs, and a reduction in people walking and bicycling around. This is why it's extremely important to be smart when doing your holiday shopping. This article will include several steps to take to prevent going over budget when shopping.
1) Calculate Your Spending Budget
The first step to getting presents this Christmas season is to calculate your spending budget. Your maximum spending should be limited by the disposable income that you expect to have at the end of the holiday season (FiscalTiger.com). This is an important step in making sure you don't go over budget and fall into holiday debt come January.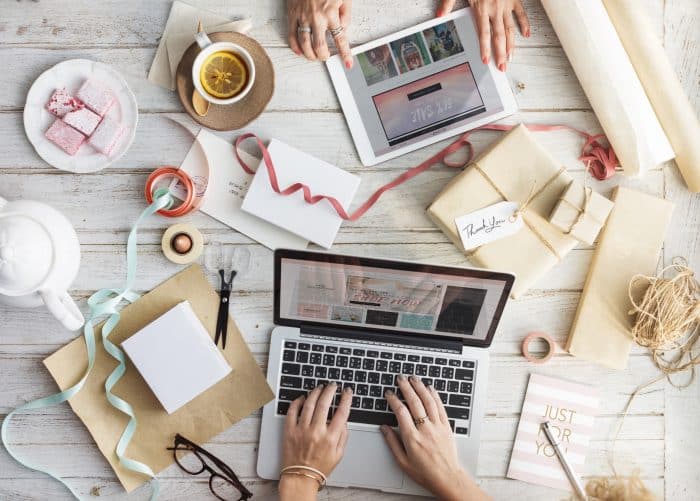 One way to extend your Christmas budget is to earn extra income over the holiday season. This can include picking up overtime at your current job, taking surveys online, or earning money with small side jobs like babysitting or walking dogs. If you have trouble thinking of side job ideas, just take note of your skills, hobbies and interests, and turn them into temporary jobs. (CultofMoney.com)
2) Make a List of Presents to Get
Once you've developed the perfect budget for your holiday shopping season, the next step is to figure out what to get for your family and friends. When shopping for kids, focus on one or two simple things that will keep them the busiest. Children general only play with a couple presents after opening everything on Christmas day. By buying them something that can play with or something they can do right away, they won't think about how much or little they received (MyMoneyCoach.ca).
If you and your spouse have children, a great gift is one that the whole family can enjoy. This can include a board game, DVD, or puzzle. If you don't have children, you can buy a present that you and your spouse can both enjoy together such as a box of chocolates, or ingredients to make a meal together (MyMoneyCoach.ca). Another inexpensive and fun way to wow someone is with homemade or baked gifts; they require a little more creativity, and tend to mean more to the gift giver and receiver. After all, do you know what your spouse would especially love for Christmas? The gift of less debt come January!
3) Compare Prices
Once you've determined what presents to get for your family and friends, the next step is to compare prices. A helpful tip to not go over your holiday budget write down the estimated cost of every gift you'd like to get for Christmas. Once you have your list, it's important to compare the sum of all gifts with your maximum spending budget. If your gift sum is more than your budget, you'll need to go through your gift list and either remove the most expensive items or just modify the kinds of presents to get so it fits in to your budget.
Many retail stores use a variety of ways to convince customers to buy into their products, whether or not there's a discounted price involved. Some tricks used by stores include: the use of smaller packaging, confusing product layouts, physically presenting products on display to try out, creating the illusions of bulk bargains, offering free treats throughout store, or simply using a dollar sign on the product price tag (Time.com).
4) Be a Smart Shopper
Now that you've made a budget and carefully picked presents to get that work with your budget, the next step is to begin your shopping debut. If you use one credit card to paying for your presents it will significantly help your credit history and account. The important thing is to pay off your entire balance at the end of the billing cycle, which should be simple if you followed the first step of building an accurate budget. If you can't pay off the entire balance, make your minimum required payment on time to avoid late payment fees or charge-offs. If you've already earned reward points on your credit cards, consider using the reports to purchase your holiday presents. (FiscalTiger.com)
A big thing to keep in mind when shopping is that there are good and bad times to shop. If you shop during busy times at the mall or store, you might feel rushed and make hasty or impulse purchase decisions that don't work with your budget. When you go shopping during quiet times when kids are in school, you can spend more time looking at product prices and avoid impulse shopping. It's also a good idea to eat beforehand and stay hydrated while shopping. This ensures a clear and healthy mind during a time when you need to keep your shopping on budget. (MyMoneyCoach.ca)
Remember it's the "spirit" of giving a gift, rather than the price of a gift. Good luck!
Sources
FiscalTiger.com: https://www.fiscaltiger.com/avoid-credit-card-debt-christmas/
CultofMoney.com: http://www.cultofmoney.com/2013/12/11/6-ways-to-avoid-credit-card-debt-this-christmas-season/
MyMoneyCoach.ca: https://www.mymoneycoach.ca/blog/paying-for-Christmas-with-credit-avoiding-debt.html
Time.com: http://time.com/money/3069933/ways-companies-trick-you-into-buying-more/