May 20, 2021
Commercial Debt Collection in Oakland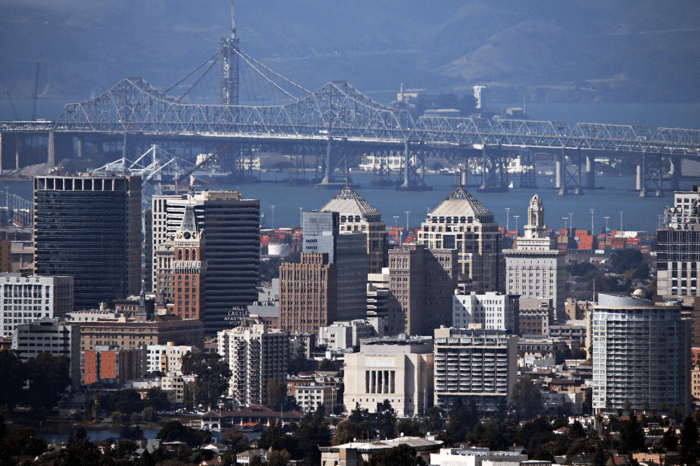 Located in the famous bay area of California, Oakland is the 45th most populated city in the United States with 433,031 residents. Known for its scenic views of the ocean, great food and historic art, Oakland is also a major shipping hub for the west coast. Its diverse population also adds to its rich history. The growing population and economy in this area of the county offers a unique challenge for commercial debt collection.
The Economy
The economy in Oakland relies heavily on the transportation of goods industry, with the Port of Oakland coming in as the 5th busiest port in the United States. In the Oakland area there are an estimated 200,000 jobs related to the transportation of cargo. Jobs in healthcare and government make up another big piece of the local economy and contribute to it being the 2nd and 3rd biggest providers of jobs. Residents in Oakland are compensated for their work at a slightly higher rate than the rest of the state with the estimated median household income coming in at $82,018 compared to the rest of California at $80,440.
Types of Debt in Oakland
According to a 2016 study, 17% of Oakland area households live in poverty. This high number has contributed to California being one of the highest debt per capita states in the country. California ranks last in mortgage debt with $55,920 per capita and 9th worst in credit card debt with $3610 per capita.
Collection Laws
In California the interest rate for debt that is collected is 10% for legal and 10% for judgement. To learn more facts about commercial debt collection in Oakland and the state of California visit our page dedicated to California Commercial Debt Collection Laws or contact us today.
Sources
https://www.lendingtree.com/debt-relief/california/
https://psicollect.com/california/
https://en.wikipedia.org/wiki/Oakland,_California
https://www.city-data.com/city/Oakland-California.html
https://prosperitynow.org/files/PDFs/profiles/Oakland_Family_Assets_Count_Data_Profile.pdf