May 19, 2022
Prestige Services Inc. Named Best B2B Collection Agency for Third Consecutive Year
Omaha, NE: For the third consecutive year, Prestige Services, Inc., (PSI) has been awarded the best B2B Collection Agency by Business.com, following its evaluation of more than 30 top US-based commercial collection agencies. This annual award was evaluated by each commercial collection agency's service rates, effectiveness of collection strategies, and success rates in recovering commercial debt. Business.com also picked awards for best collection agency for small business, best collection agency for affordability, and best B2C collection agency.
For three years, PSI has been awarded Best B2B Collection Agency honor because of its commitment to providing effective collection methods, client-support services, exceptional commercial collection features, and transparent pricing options. With specialized collection services exclusive to B2B accounts, PSI seeks collections from commercial industries in the United States, Canada and Mexico.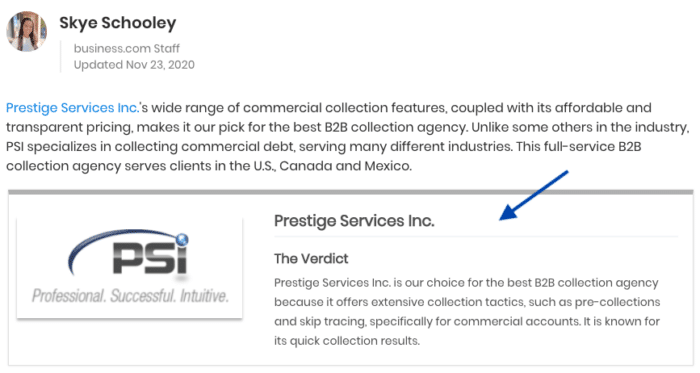 Of the agency's 2022 Business.com award, PSI CEO Joy Baird said, "It is such an honor to be chosen for a consecutive 3rd year in a row!  We are so proud of this accomplishment, and it is a testament to our business model and our incredible employees who have diligently continued the tradition of excellent customer service and excellent results.  We will continue to work hard to surpass our previous successes and provide the best services possible for our clientele."
With an A+ Better Business Bureau rating, PSI prides itself on providing quick, efficient services to companies of all sizes, with contingency rates often 5–10 percent lower than its competitors. PSI is among the longest enduring collection agencies in the USA and has been in business now for 27 years.  This success comes from a vast amount of experience, knowledge, and a full understanding of the industry.
Prestige Services, Inc., (psicollect.com) is a full-service agency offers an exclusive online portal service for its large and small commercial collection accounts. This Online Placement Portal provides unlimited access to free quotes and live status updates about agency-to-debtor interactions. With a comprehensive list of services, PSI offers pre-collection services, free final-notice forms, skip tracing, and post-judgment collections.
For more information, please contact CEO Joy Baird at (800) 523-2797, email at mail@psicollect.com, or visit their website.
To read the full Business.com review of PSI, visit: https://www.business.com/categories/best-collections-agency-services/